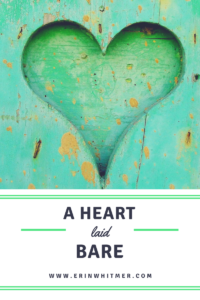 I'm sitting in a Jacksonville waiting room, surrounded by family, my grandfather in surgery, a heart laid bare. The last time I was in Florida, we'd driven all night to leave on a Disney cruise. I cried most of the ride down, as I'd found only an hour before we loaded into the mini van that my grandmother had died. In between beaches, animated Disney dinners, and pools so full they looked like Kid Soup, I cried. I stashed tissues in my beach bag. My boys, six and five at the time, kept asking why I was crying. Towards the end of the week, they'd learned my response. "Oh," they'd say with a dramatic sigh, "Your grandma died."
And now, only a little over a year later, it's her husband we're waiting on. I'm thankful for the chance to be here. To get the call to come instead of the call that he's gone.
As I attempted to sleep last night, curled and twisted like a pretzel in the back of my parents' SUV, I thought of what value I could bring to all of my amazing readers. I can't just sit in a waiting room and wait. I'm armed with my laptop. Ready to drip wisdom. Ready to give you something to take with you.
And then I remembered how my journey began so many years ago. My four-month-old son was in a coma, his future a giant question mark, and my friends started a blog for me. In those early days, I didn't write to impart wisdom. I wrote to update hundreds of prayer warriors, to seek out prayers and hope, to find community as I struggled to make sense of my new world. If you check out Noah's Road, you'll see what I mean.
It's incredible what happened in those early months of blogging. My faith back then was just a seed starting to take root in dirt dampened with fear and tears. But a community was formed. It circled the world and represented more than 123 countries. And in that period of time, faith in me, and faith in my readers grew. Because when we open our heart and lay it in front of people, trusting in their goodness, God can show up.
I don't need to be prophetic. I don't need to always have wisdom. I've seen God in community when we just show up. Somewhere in this vast hospital, there's a high-risk heart surgeon leaning over my grandfather. He's armed with the tools of his trade and the confidence that comes with doing hundreds of these surgeries a year. The hope is to buy my grandfather more time, to delay the inevitable.
He'd laid it all out there earlier, in an earnest, pragmatic conversation in which he'd told us he's just a man. He'd applied for the miracle worker job, but he didn't get it. All he can do is his best. It's all any of us can do. Because the miracle worker job has already been taken.
When I reached out for prayers eight years ago, a community was formed. We were all hearts laid bare, seeking hope in each other, believing in a miracle worker, the original miracle maker. I don't have anything to offer you today, but I'm seeking your community.
If you have a moment, leave a comment and tell me how you heard about my blog, and what you'd like me to know about you. We're in this together now, my friends, and I have time on my hands. Share your heart, lay it bare, and if you need prayers, share them here. I've got you covered. Because I'm covered. And so is my grandfather.
Don't worry, you don't have to register to comment. Just leave your name and maybe your email. I'm so honored to hear from you!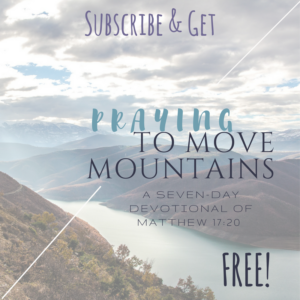 Have you subscribed to receive new blog posts and my YouTube Shares straight to your email? Don't forget to SUBSCRIBE HERE. You'll receive my 7-Day Devotional, Praying to Move Mountains, FREE!