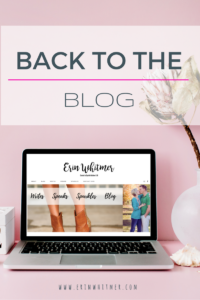 My son nearly died eight years ago. I began my first blog then. It started as an avenue for prayers, hope, and a place for me to cull all of my heartbroken thoughts. That first blog became more than just a place to seek out love and prayers; it represented a part of my life I desperately wanted to leave behind. So after three years of pouring my heart onto a blank white screen, I stopped writing that first blog, Noah's Road. I wanted to leave my past behind.
Do you feel that way sometimes? Like you just want to leave the past behind? Girl, I get it.
In many ways it seemed like the past was nothing but souvenirs. We were even smiling again. We had moved to another part of the state and started over. I didn't need a blog following me. And so when we thought we had healed completely, we officially shut down the blog. Boom, gone. Done.
There was a sadness after saying goodbye that is hard to explain. The thousands of early loyal readers now went to a dead-end link. News stories that featured our blog now only told a fraction of the story. From the cyber perspective, the story had stopped. Except that it hadn't – it only appeared that way. Perhaps the real sadness came when I realized I had left the greatest part of the story left unfinished. When we start a book, our intention is to finish it, right? I had been so busy running that I hadn't realized I'd abandoned the story before it was finished.
Are you running from your story before it is finished? Or maybe you're just now realizing you're in the middle of a story. Or maybe it has just begun.
It took years and a lot of prayer and stubborn quiet time with God to realize that I'd been running from the platform God had so beautifully given me. He didn't hand me that first tragedy. That's not who God is. But He delivered me from it. Who wouldn't want to hear a story like that? He gave my pain a platform. But more than that, he gave me a haven for hope.
So here I am – to embrace all of it: the past, the pain, the grace, the joy and the CRAZY. (Because let me tell you, we have some crazy!) I hope you'll join me on the journey and that you'll find something to take away each time you read.
Have you subscribed to receive new blog posts straight to your email? Don't forget to SUBSCRIBE HERE.