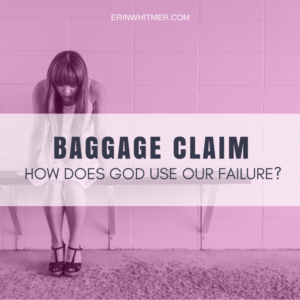 Sometimes, despite my best intentions, I feel like I can't do anything right. My laundry room is piled up with clothes. There's more toothpaste on the kids' bathroom counter than in the tube. I ditch another opportunity to make a wholesome meal and instead load the family into the mini van for a field trip to the local Mexican restaurant. And those are just my perceived mothering failures. Don't even get me started on how I need to do better as a wife, daughter, sister, and friend. Do you feel me? There's this thing we do over and over again. We give into a perception of failure. We keep score and we wonder who else is keeping score when they look at us. Don't tell me this isn't just me. Because I have enough mental baggage as a writer that I don't need to be crazy too.
So far in the Baggage Claim series we've tackled some of the heavy bags we constantly carry with us. Sometimes the baggage is about us; sometimes the baggage is about our doubt in God. But there's another bag we carry. For most of us, it feels like a daily accessory – just not one that will be featured in any fashion magazines.
Peter the Failure
Let's look at Peter again. We know he was inquisitive because he was the one who asked most of the questions of Jesus. He wasn't afraid to speak his mind. You know, like the gal at DSW who shouts down the aisle to tell you the sandals you're wearing are totally adorable. Or the one brave soul who's willing to tell a stranger she has toilet paper stuck to her shoe. That was Peter.
And yet people tend to be hard on Peter. After all, he's the guy who walked on water to get to Jesus only to sink when he realized he was walking on water. First of all, I love how passionate he was. He didn't even second-guess the command when Jesus called him. He was an all-in sort of guy – that is until he realized what he'd gotten himself into. Are we really any different? Why do we give him such a hard time when he was the only disciple willing to get out of the boat? He was willing to fail. I think that's brave. I think many of us could stand to be more like that.
What Does Failure Often Feel Like?
I bet that whole boat ordeal was a little embarrassing, maybe even humiliating. But that wasn't the only time Peter was prone to humiliation after he failed. There was another time…and it was bad.
Peter was the first disciple to claim Christ as "son of the living God" (Matthew 16:16). He must have been flying high when he got the Million Dollar Question right! When Jesus tells the disciples He's going to Jerusalem to be killed, Peter says no way, this will never happen to you. He was just trying to be a good friend, put some positive vibes out there. Jesus's response must have crushed him: "Get behind me, Satan! You're a stumbling block to me; you do not have in mind the concerns of God, but merely human beings." We have the perspective of the big picture (as did Jesus) but imagine how Peter must have felt. Rejection. Humiliation. Failure – again.
Humiliation, though, can be a good thing. It reminds us that we're reliant on God and not ourselves. It's the American way to think that our giftings are innate, that our success is reliant upon US. We're humiliated when we realize we're not enough – and that's exactly what we need. John MacArthur writers in his book Twelve Ordinary Men:
"But now, through the painful experience of being rebuked by the Lord, Peter also learned that he was vulnerable to Satan. Satan could fill his mouth just as surely as the Lord could fill it. If Peter minded the things of men rather than the things of God, or if he did not do the will of God, he could be an instrument of the enemy."
When we rely on ourselves we're giving Satan free reign to have fun with us. Jesus allowed Satan to sift Peter like wheat because He knew the result would be humility and growth for Peter. If He does that for one of his closest disciples, I imagine He can do the same for us. That's why it's so important for us to know our limitations and learn from our failures.
Without knowledge of our limitations Satan can sift us like wheat. Failure is our reminder of our limitations without God.
What Happens After The Failure?
If you know the Scriptures, you know these two examples of failure are really small potatoes when it comes to spiritual failure and Peter. Mere hours after he pulled a sword on a Roman soldier to defend Christ in the garden of Gethsemane, he denied Christ three times – just as Christ predicted and even when he swore he wouldn't. Imagine the self-disdain. The disappointment. He didn't just fail himself AGAIN; he failed Christ. Even when I think of my worst failure, it pales to this in comparison, and yet I've grieved my failures.
After Peter's final failure and Jesus' death, he gave up the ministry and went back home to fish. He quit. Boom, done. We can't blame him right? How many times have we wanted to do the same? But what happened at Pentecost? He received the Holy Spirit and his platform.
His platform wasn't the physical location of his speech; his platform was his calling: to be the rock of the church, the passionate evangelist Christ had envisioned when He had changed his name from Simon to Peter. Yes, Peter had disowned Christ when it mattered most. Yes, he failed in a humiliating and heartbreaking way. But the power of the Holy Spirit, coupled with the lessons he learned through his failures, allowed him to preach and speak life to convert over 3,000 people into believers. 3,000 people!
He denied Christ 3 times. He failed 3 times. But with the Holy Spirit, he turned that failure into a platform with a 1000-times return. I'm no math whiz, but that's enough to spur me on, keep me plugged in, and believe the validity of this verse in my life, even when I'm threatened with failure along the way:
"Now to him who is able to do immeasurably more than all we ask or imagine, according to his power that is at work within us."
Ephesians 3:20
Be confident, my friends, that our failures are the foundation of our platform, and the size of our platform will always be bigger than our failures. I believe this for me, and for you.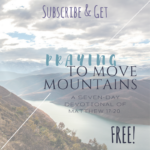 Have you subscribed to receive new blog posts and my YouTube Shares straight to your email? Don't forget to SUBSCRIBE HERE. You'll receive my 7-Day Devotional, Praying to Move Mountains, FREE!