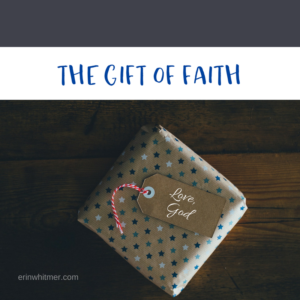 After Noah's injury as an infant, seizures ravaged his body for over a year. On his worst day he had 32; I remember not only because it was the highest number we'd seen but because the day before had been nearly perfect as we let him splash in the kiddie pool for the first time. After nearly a dozen medications failed him, desperation pushed us into action, and we started Noah on the Ketogenic Diet. Seventeen days later Noah was seizure free. Don't let anyone tell you food doesn't have power! (Though, sadly, this doesn't apply to Buffalo Chicken Dip or any other addictive dip for that matter.)
The diet demanded its own hemisphere in my brain and consumed me radically. A mistake could cost my son his seizure freedom – and what was left of my sanity.
Imagine feeding your toddler meals generated with a computer program and weighed on a gram scale down to the tenth of a graham. Imagine that meal was 90% fat and 10% carbs and protein combined. That's about half a cup of whipping cream, a tablespoon of shredded broccoli and a tablespoon of chicken. (Pinterest creativity hath no power like a mother with a child on the Ketogenic Diet.)
For years I spent hours in the kitchen and then hours forcing slick, oily meals down my toddler's throat. He ate on tractors at Lowes. He ate in the swing in the backyard. He ate while lumbering along a playground. We switched up dining locations like a four-year-old girl switches outfits. And when I say ate, let's be real: he tucked the food into his cheek like a squirrel and then ran away from me. There was a time when I was so weary from forcing Noah to eat his healing food that I gently set down the fork, walked quietly out of the house and into the woods, and then unfurled a scream from so deep in my soul that even God didn't see it coming.
(I kid. God totally saw that coming.)
All this to say: it was one of the hardest times of my life.
Fighting Back with Fat, the book I co-authored about surviving and thriving with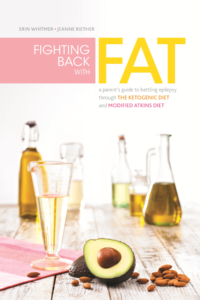 the diet, was birthed from that struggle. Because of that book, I sometimes mentor moms struggling through the diet journey. Recently, I met a mother whose young son has just begun the diet, but his seizures have tripled instead of lessened. What began as hope was quickly tempered with fear and confusion. Until she gave it to God. And this is the wisdom He gave her:
It occurred to me a few days ago that just as God has the hairs on our head and the days in our life numbered, He also has Joseph's seizures numbered. There is strange comfort in that. So I will also try to change my thinking when he has seizures and think, "That's one more crossed off. One more closer to the end."
Oh how that inspired me! My faith was so new when we were dealing with seizures, and I didn't know scripture then. So I didn't have truth to breathe in when I went into the woods and screamed so loud that the squirrels sprouted wings and migrated south. I told my new friend this, knowing too that God used those struggles – including the diet – to shape my young faith. Because the struggles sent me searching desperately for the truth and the light. And in the seeking my faith grew stronger.
To that she responded:
I am thankful that He grew your faith through that time. It's an amazing gift that even "our" faith isn't "our" work. He gives us faith and He keeps us in His hands. His view is eternal – it is so hard to try to see things through that lens when our children are the ones suffering in the present. But He keeps turning my head that way when I'm despairing.
Even our faith isn't our work.
Encourage a Friend
Can I just tell you how true this is? I was searching deep into of my favorite verses about faith a couple days after our conversation, and I was looking into the Greek meaning of the word "faith" used in the verse. A study of the word from Strong's Concordance says this:
Faith is always a gift from God, and never something that can be produced by people. In short, "faith" for the believer is "God's divine persuasion."
We feel like faith is always on us. Like we need to find it, plant it, grow it, supersize it, and only then will God bless us. But we put too much on ourselves. God knows our weaknesses right down to our faithlessness. But when we seek Him He gives generously. Faith included.
God knows our weaknesses right down to our faithlessness.
Encourage a Friend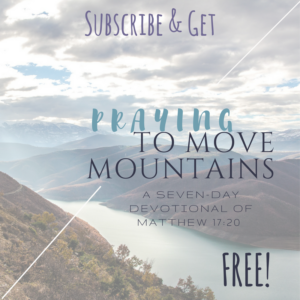 Do you feel drained? In promises gone missing? In hurt deep? I've been there. When you subscribe to my blog posts, you'll receive my 7-Day Devotional, Praying to Move Mountains, FREE. I've walked the journey of pain, and this devotional was birthed from it. Don't worry, at the most you get one email from me a week and I don't sell or advertise my subscriber list. GET THE DEVOTIONAL