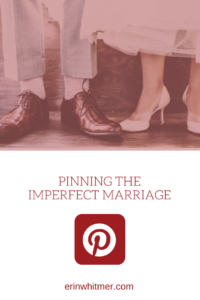 I don't Pinterest. At least I didn't used to. I looked up healthy kids recipes once. That was a mistake. Apparently it's not good enough to feed your children veggies; the carrots, cucumber and olives should be arranged into adorable, friendly penguins. Seriously. Who has time for that? I'm lucky if I feed my kids with sufficient speed to save me from the jaws of their fury. I've been known to toss a sandwich at them and run in the opposite direction.
Recently, however, I've been exploring ways to engage more readers, so I'm trying this whole pinning thing on for size. Because I blog about marriage (among other things…like being an awesome mom), I typed marriage into the search bar at the top of my Pinterest page. When you do that, a list of the most popular keywords pops up below. Here's a sampling of the keywords commonly paired with marriage: advice, problems, counseling, Christian, struggles… You get the idea.
I'm guessing you don't need me to tell you marriage is hard. If I do, then your wedding day must have been a couple days ago. So congrats on the big day! I hope you're enjoying the honeymoon.
I've been married for ten years. It seems like such a small number, really. Maybe because of how much we've gone through. (Tragedy will do that do you.) Or maybe it's because we've been together nearly our entire adult life. Or maybe, it's because we've had so many seasons – and not all of them have been great. A friend once told me that my husband and I are a passionate couple. Yes, you fight a lot, but you love with just as much passion, she said. Well great. So we're basically like that favorite food you eat even though it gives you heartburn. Or we're the fun night out with the hangover the next morning.
When another friend's marriage abruptly ended last summer, I found myself reflecting on their history – at least what I knew of it, and you can't do that without looking at your own. Though their marriage seemed to erupt quickly, with anger and sin and secrets spewing faster than anyone could process, in reality, there had been tremors for years, subtle hiccups in the landscape of their relationship that had made me wonder when the seismic activity might give way to disaster.
But really. What did I know? What does anyone really know about our marriage? What does anyone really know about our marriage? tell a friend
No one can see into all the spaces of our promises; what we show on the outside, and even what seeps out of our protective layers, isn't always a testament to what's on the inside, resting in the quiet places. There are moments we share with our spouses that are private and tender, sacred to our union. There is beauty even through the sadness and the lonely moments of misunderstanding.
A marriage might look passionate, or perfect, or desperate on the outside, but our perception is of no consequence. It really doesn't matter what we think. Instead of wondering what had eroded my friend's marriage, I should have taken that time to look into mine, to see what puzzle pieces were missing, or where the pieces could have been snapped closer together. There's no perfection in marriage; only two puzzle pieces placed side by side, sharp edges and curves complimenting each other in their union. My friends' opinions of my marriage aren't significant, as long as I know where my puzzle pieces are meant to go.
Did you read my Keeping Satan Out of the Bedroom Series on marriage? Jesus didn't pull me aside one night and pour the contents of those lessons into my spirit. Those tips are the fruit of living through the lessons first. I'm a seriously stubborn girl who's still learning to keep coming back to Jesus for my doses of much-needed grace. And when I'm too stubborn to open my Bible and seek wisdom from my heavenly father, Lord help me. It can get ugly down here. Sometimes I can stiff-arm Jesus and the grace he's told me to give, and I can ignore my husband for days at a time when he's ticked me off. We're working on that. Along with other things in our marriage. Because marriage is a covenant, a promise, and there's no pinning the past to a board and deleting it.
Even the keywords on Pinterest will tell you that marriage is tough, filled with struggles and challenges. You're going to have seasons when you're pinning funny quotes about socks on the bedroom floor, and you're going to have seasons when you're pinning tips to improve your marriage. I'll be right there with you.
You won't finish one of my blogs feeling as though you've just seen a picture of perfect veggie penguins when your pantry is empty except for the Chef Boyardee. We're going to dig into the places where no one wants to look. We're going to pin the imperfect here. And our marriages will be stronger for it. We're going to pin the imperfect here. tell a friend