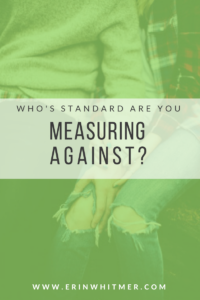 Sometimes I wish my husband would close drawers. Like really. Take a step back, babe, and close a drawer. I have friends who love to share that their husbands do all the cooking. And one who's gaining weight because her husband is such a good cook. Ya'll, I didn't even know that was a thing. Seriously. There are men who cook something more than chicken and eggs? Or who do more than watch the grill – whether or not there's meat currently cooking on it? Before you get mad at me for bashing my husband, quiet your spirit. I'm not bashing him. I'm using that mostly patient man to prove my own point: sometimes we get so carried away with comparison that we forget we once put on a dress and said, I do promise to love you through sickness and health (and any fine print that's not currently visible in our vows.) I joke about fine print a lot, but when I'm in front of my husband, he reminds me that I've exposed some fine print as well. For example, I'm not great with kids. Sometimes not even with my own. And I know you'd never guess it from my shoe collection, but I'm a little high maintenance. Here's when you're like, Take a step back, Erin, it's so obvious you're high maintenance.
Remember the Jones's? We all fall victim to the comparison game. It's obviously a thing when there's a cliché to go along with it. But what's happening when we spend too much time looking beyond our own grass and into a place that not only isn't ours, but a place where we don't belong? Satan gets to convince us we're missing out. And the more we play his game, the more times we think "If only my husband did this…" or "If only my husband didn't do this" or "My marriage would be better if…" he gets the upper hand and the unity of our marriage is downgraded. As in going to need a lot of fertilizer to make it green again.
I get there are serious ways we compare our spouses to others, and sometimes, even in our prayers, we ask God why our husband can't be more like so-and-so's. Maybe your husband doesn't spend enough time with the kids like Sarah's husband. Maybe his idea of spending time with you involves watching TV on the couch and never a romantic getaway like Ashley's husband. The list could go on. But no matter what your husband does or doesn't do and no matter who you compare him to, there's a common denominator. You.
Your desire for your spouse and the way he's not measuring up to your comparisons are more reflective of you than him. That's because it's you who has chosen to measure him by a standard that revolves around you and your desires, and not God's. I used to play the comparison game too. But I learned that the more I focused on my husband's faults and the ways he wasn't measuring up to my invisible standard, the more miserable I became. You know what's worse? The more I allowed my inner dialogue of negativity to swirl inside of me, the more Satan punctuated my thoughts. And he's all about the exclamation point when you're angry and the question mark when you're hurt. This about it. How does he punctuate your thoughts?
That's because has everything to win by keeping my mind focused on what others have and what I don't have, and what my husband's not doing instead of what he is doing. He loves the idea of me coveting something that can't belong to me (this includes the notion of a perfect spouse) instead of focusing on the man God brought into my life and gifted to me with grace and expectation.
I've learned that to elevate my marriage instead of dismantling it, I need to let God filter my vision of my husband. I need to spend more time looking into my heart and asking God to refine it, and less time making heartfelt apologies for measuring my husband against someone else's standard.
 Each one should test their own actions. Then they can take pride in themselves alone, without comparing themselves to someone else (Galatians 6:4).
Have you subscribed to receive new blog posts straight to your email? Don't forget to SUBSCRIBE HERE.