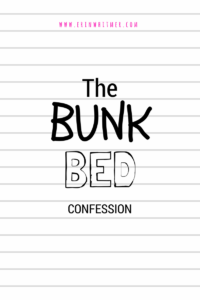 I have two boys. One just turned eight. (That's Noah, our miracle baby.) Our second son is Avry, and he's turning seven tomorrow. Are you good at math? Are you picking up on how close in age these two crazy farting boys are? They give us a run for our money and our sanity. If you're a mom, you get this. Our days are generally filled with the following:
Commentary on the size or the smell of their poop.
Arguments over whose fart is the one wafting through the car and nauseating us. (We usually blame the dog first, but it's almost never him!)
Discussions on whether it's cool to eat boogers (never mind their apparent deliciousness).
And in-depth informational sessions on which Minions have one eye and which Minions have two eyes. (Please don't quiz me on this because I'll fail.)
So you get the picture. Life with boys is full of bodily fluids, functions, and fierce competition. It's pretty gross. It's also pretty great. Because boys love their mama with the same zeal as a warrior. When I'm not exasperated, I'm overjoyed. (Just don't ask me which one I am the most. It will squash my perfect mama reputation.)
The other day the boys were running around the house chasing each other. It was one of those great moments when they were actually getting along. Noah, because of his brain injury and history of epilepsy, doesn't have the best balance and is prone to randomly falling and tripping on his giant feet. So clearly he doesn't need his brother chasing him – or the vacuum cleaner sitting in the entrance of the playroom – to contribute to his chaos. But, that's the perfect combination we had the other day. After Noah fell, Avry somehow managed to pull him over the vacuum, which was now partially broken. The result was hysterical tears (by Noah) and Avry heavy with genuine concern for his brother.
As I tried to console Noah, Avry kept asking, "Is he ok?" Duh, kid. You hear the crying, right? So I told him he wasn't. And to give us space. He ran upstairs and I put double bandaids on Noah's bleeding scrape. Before I did that, though, we insisted that Avry come down and look at what he had done to his brother. After a quick glance, he ran upstairs again and slammed the door. Noah went upstairs to tell him it was OK, that he was OK. But Avry continued to hide.
After the drama had subsided and we got ready for bed, I saw a note that Avry had written. It was taped to his wooden bunk bed. It read: "go away. I am sad."
I started to think about how we had forced him to see the extent of his mistake even though he already felt responsible. What did we hope he would learn from the size of Noah's scratch?
And then I thought about God. I'm sure you're perfect and all, but I make a lot of mistakes. Mistakes of biblical proportion. (Duh, Erin, you might be thinking.) Sometimes I want to hide – from the world, and even sometimes from God (with a note taped to my wooden bunk bed that reads: Oops, I did it again). God is such a better parent than me. When I make mistakes He doesn't call me back down to make sure I know how BIG a mistake it was. Because our mistakes and the notes we scribble in sadness are part of who we are as children. That's what endears us to our own children, and that's what endears us to Him.